Overview
SYN-020 is a recombinant version of bovine Intestinal Alkaline Phosphatase (IAP) produced under cGMP conditions and formulated for oral delivery. IAP is an endogenous enzyme expressed in the upper small intestine. Preclinical studies have shown that IAP detoxifies inflammatory mediators found in the GI tract, tightens the gut barrier to mitigate leaky gut, serves to diminish both gastrointestinal (GI) and systemic inflammation, and may promote recovery of the gut microbiome after damage by antibiotics or other interventions.
The diverse mechanisms of IAP action indicate that SYN-020 may have utility in a broad range of therapeutic indications. Synthetic Biologics has completed preclinical studies showing that orally administered IAP can protect the intestinal tract from damage caused by radiation and believe that SYN-020 may play a role in mitigating the intestinal damage caused by radiation therapy that is routinely used to treat abdominal and pelvic cancers. Enteropathy secondary to radiation therapy used to treat abdominal and pelvic cancers remains a growing and largely unmet medical need. Pelvic and abdominal irradiation is used more than 300,000 times annually in the U.S. resulting in 60-80% of radiation-treated cancer patients suffering from acute bowel toxicity.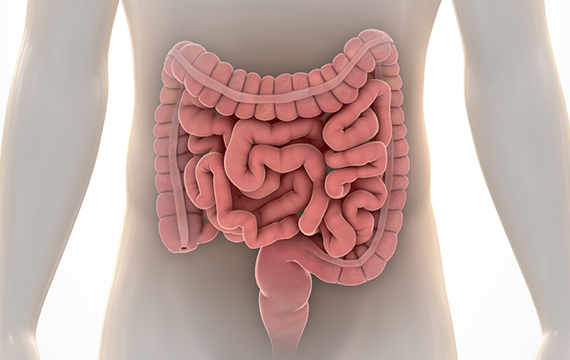 Candidate Pipeline
Candidate & Indication
Development Stage
Preclinical
Phase 1
Phase 2
Phase 3
Market
SYN-020

Treatment of enteropathy secondary to radiation therapy for pelvic cancers

SYN-020

Treatment of enteropathy secondary to radiation therapy for pelvic cancers

Preclinical Phase complete

Phase 1 Phase not started

Phase 2 Phase not started

Phase 3 Phase not started
Differentiators/Key Benefits
IAP plays an important role in detoxifying inflammatory mediators, reducing GI and systemic inflammation, tightening of the gut barrier, and promoting a healthy gut microbiome. Despite its broad therapeutic potential, a key hurdle to commercialization has been the high cost of IAP manufacture. Synthetic Biologics has overcome this hurdle and has the ability to produce SYN-020 at a scale and cost viable for clinical and commercial development as an oral product.
Preclinical and Clinical Development
Initial Indication: Based on the published literature, which includes work by Synthetic Biologics and our collaborators, we are initially pursuing SYN-020 as a potential means of mitigating or treating the intestinal damage caused by radiation therapy that is routinely used to treat pelvic cancers. An IND application was submitted to the U.S. Food and Drug Administration (FDA) supporting the advancement of SYN-020 towards a Phase 1 single ascending dose study in healthy volunteers. The Phase 1 clinical program is intended to support the clinical development of SYN-020 in multiple indications.
Additional Indications: Synthetic Biologics entered into an agreement with Massachusetts General Hospital granting the company an option for an exclusive worldwide license to intellectual property and technology related to the use of IAP to maintain GI and microbiome health, diminish systemic inflammation, and treat age-related diseases. If executed, the license is expected to support the advancement of an expanded clinical development program for SYN-020 and will expand upon foundational research conducted by Dr. Richard Hodin's laboratory at Massachusetts General Hospital and Harvard Medical School
Research published by Dr. Hodin's laboratory evaluated IAP-administration in a mouse model of metabolic syndrome and type 2 diabetes. Mice fed a high fat diet exhibited barrier dysfunction, increased serum levels of inflammatory cytokines, and features of metabolic syndrome. Results from this study demonstrated that oral administration of IAP reversed many of these changes.
Additional research recently published by Dr. Hodin's laboratory demonstrated that as mice age, on a normal diet, they develop the same features of barrier dysfunction, systemic inflammation, and metabolic syndrome. Furthermore, continuous administration of oral IAP starting at 10 months of age (middle-age for a mouse), lessened these changes and substantially extended the normal lifespan. Finally, these investigators examined human intestinal fluids and found that endogenous levels of IAP decrease with age.